SURF BALI ADVENTURES HOME STAY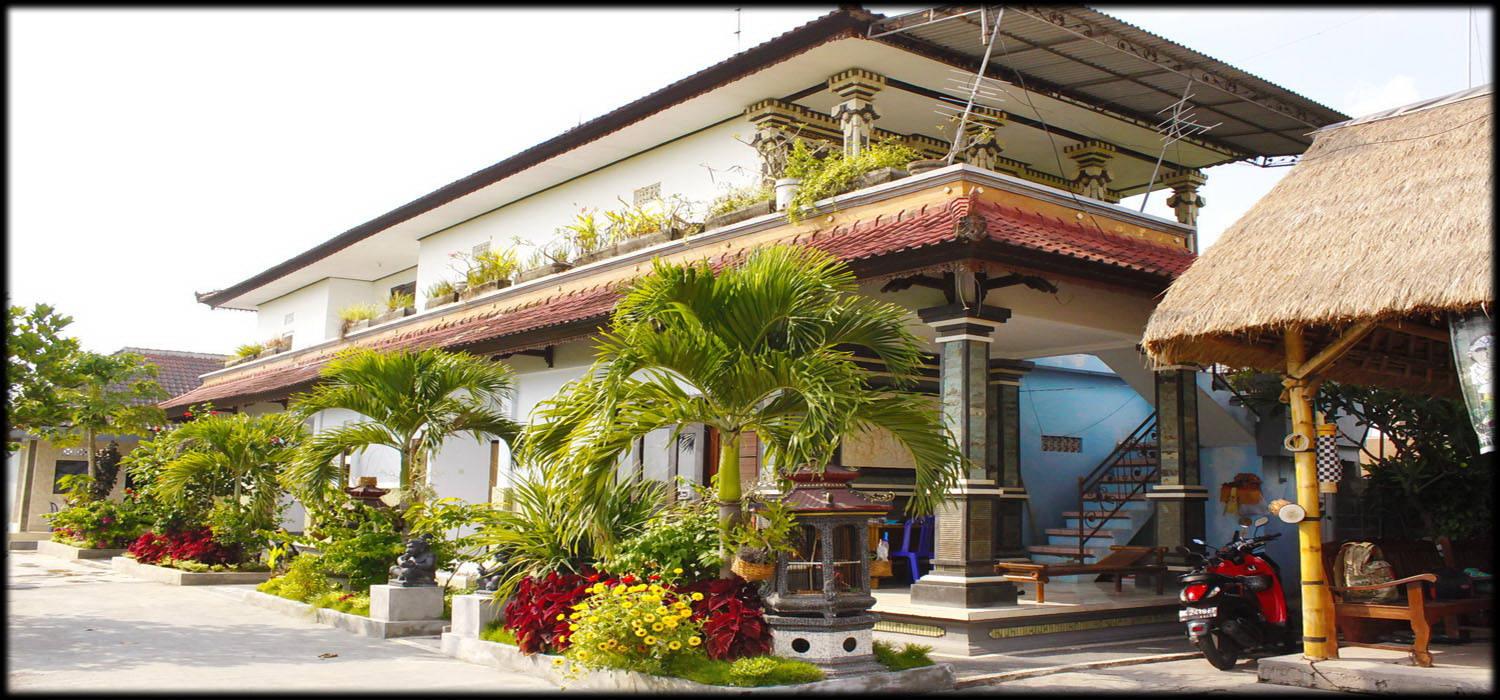 Surf Bali Adventures Homestay is part of a charming Balinese traditional compound just outside a small village 10 kms west of Kuta, on the west coast between Canggu and Tanah Lot . Our Location is, in Mengening Village, an ocean-side village with black sand beaches. The area is surrounded by green rice terraces and the sound of waves breaking, it is a 2 minute walk to the beach (400 meters), and we also have 2 surf spots nearby.
This is a traditional family home, so guests can feel like they are in the 'real Bali', with the daily activities of ritual offerings, tending the land and extended family gatherings going on all around- while also enjoying privacy and the company of a small number of other guests. You will see, feel and experience the genuine culture of Bali. Be part of our community by joining a variety of community activities such as watching cock fights, playing volleyball and enjoying community cooking. As well, you will be invited to join the weekly Balinese traditional ceremonies held both at home and at the village temple.
.
LOCATION
Our Home Stay can be found on the west coast of Bali in between Tanah Lot and Canggu.  A tiny and traditional fishing village which, like most in Bali still practices the daily rituals of the Hindu faith.  The region of Seseh is unique in Bali in that it is an active fishing village which is surrounded by miles upon miles of lush green rice terraces, still today the main livelihood for the villagers. Located approximately 45 minutes from the airport, 15 minutes to Canggu, and 30 minutes to Seminyak/Legian/Kuta, the main entertainment areas of Bali, Seseh could certainly not consider itself remote however it benefits from a sense of true tranquility and calm due to its location hidden amongst the rice terraces and against the Indian Ocean
Facilities &Services
     5 Bedrooms ( 200 x 180 )
     Room with air-conditioning or fan
     Shared kitchen ( self service )
     Hot water
     Strong internet Wi-Fi
     TV cable ( international channels )
      Daily Room service
     Laundry service
     Scooter (with racks) and car rental
     Bicycle ( free )
     Easy Parking
ROOM RATE : 
Idr 275.000 /night /room 
Check In Time from 7AM
Check Out Time before 1 PM
Airport Pickup: Idr 300.000 On Request :
For One Car Capacity up to 3 Persons + Luggage + Surf Board
Available Scooter For Rent: Idr 50.000/day
Includes helmet and Board Rack
NO INSURANCE
Terms & Conditions:
Rates quoted are based on your period of stay. Rates are subject to change as a result of changes in your arrival and/or departure dates.
Rates are subject to 10% Service Charge and prevailing Goods and Services Tax.
The Payment must be done in the first day.